THE RUSSIAN INVASION OF UKRAINE
SITUATION
2022-03-02
The Russian invasion of Ukraine has reached its seventh day and Kyiv remains so far under Ukrainian control. The Russian military has continued using area-attack weapons in the city of Kharkiv, dramatically increasing the damage to civilian infrastructure and resulting in civilian casualties. The Ukrainian resistance is still reported to be strong and united. Both Russian and Ukrainian authorities have, during the day, confirmed that a second round of peace talks is set to be held today, the location is, however, still unknown.
The satellite images released by Maxar Technologies on Monday evening showing a massive 65+ km long convoy of Russian military vehicles approaching the northwest of Kyiv is reportedly moving much slower than expected. The extent of the convoy has later been questioned and reports state that it mainly consists of maintenance support and basic necessities for already existing troops in the north – eastern outskirts of Kyiv.
The Russian attack on Kyiv is likely their main effort in the coming hours, aimed at enveloping and ultimately encircling the city from the west. Although Kyiv was hit with rocket fire on Tuesday, Russian forces are more likely to pursue the envelopment/encirclement, with the ultimate goal of capturing Kyiv, rather than a direct assault into the city. SRS assesses that this effort will likely accelerate during upcoming days.
The Ukraine Armed Forces claimed yesterday that Russia is planning to involve the Belarusian army in its invasion, and that Belarusian soldiers had been spotted on Ukrainian territory. Belarus has denied the claim, stating that its armed forces act in accordance with their yearly training plan on the Belarusian side of the border with Ukraine. The Belarusian involvement in Ukraine remains yet uncertain.
The development in Ukraine has caused hundreds of thousands of refugees streaming out of Ukraine towards Western countries, including Poland, Slovakia, Hungary, Romania, and Moldavia. The border crossings are reported to be stable. However, there are indications of vehicle queues several kilometres prior to the border, especially at the Ukrainian-Polish crossings, with waiting times up to 50 hours to cross.
As the invasion has unfolded, the number of information sources has increased causing an immense news feed, in both traditional and social media, that is constantly being updated. Assessing different sources of information is therefore essential. Basic source criticism helps prevent the spreading of fake news and disinformation.
SRS SERVICES
SRS has personnel stationed in the city of Lviv.  SRS can assist with on-site security coordination, as well as assistance with evacuation, planning and contact with Swedish authorities.
For more information, contact SRS via mail@srsgroup.se or +46 (0)8 440 90 70.
Situational Map and Border Crossings of Interest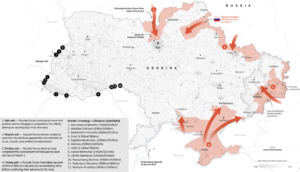 Situational Map and Border Crossings of Interest (last updated 2022-03-02, 10:30 CET). Source: SRS/Reuters.
RECOMMENDATIONS
Due to recent military development and the economic sanctions imposed on Russia by Western countries, SRS recommends that expat staff and their families in Russia or in countries aligned with Russia in this conflict to i) register with the Swedish Embassy at se or ii) evacuate to an EU-member state.
If your business is in one of the impacted or neighbouring countries (e.g., Poland, Romania, Hungary, Lithuania or Latvia), SRS recommends updating emergency response plans and security instructions. Prepare evacuation of staff, secure and/or shred sensitive documents and back-up of key information and IT-systems.
Be aware of false information and news sources. Learn more about source criticism at se.
SRS also recommends visiting the Swedish Civil Contingencies Agency (MSB) website (msb.se) to learn more about recommendations and safety precautions in times of crisis.