THE RUSSIAN INVASION OF UKRAINE
SITUATION
2022-03-03
The Russian invasion of Ukraine has now passed one week. Despite heavy Russian shelling, the cities of Kyiv, Kharkiv, Chernihiv and Mariupol remain under Ukrainian control. In Kyiv, multiple attacks from the air and several loud explosions were heard in the early hours of Thursday morning.
Moscow has made its first major gain by taking over a significant Ukrainian city. Russian troops have reportedly seized the control of the southern city of Kherson. According to the city's mayor, Igor Kolykhaev, Russian troops had forced their way into the city council building and imposed a curfew on residents.
Russia has continued using area-attack weapons increasing the damage to civilian infrastructure resulting in civilian casualties. The number of refugees from Ukraine is reported to have exceeded one million. Many of the border crossings with Ukraine have experienced heavy delays and vehicular and pedestrian congestion during the last couple of days but reports today indicate that the waiting times has decreased.
On Wednesday, it was confirmed, by both sides of the conflict, that a second round of talks would take place, which are expected to occur today in Belarus. According to several news outlets, the Russian delegation has said that ceasefire is on today's agenda, however, Ukraine has said Moscow's demands are unacceptable and Russia must stop bombing Ukrainian cities before any progress can be expected.
Reports indicate that the advance of the 65km + long convoy of Russian military vehicles approaching Kyiv remains over 30 km from the centre of the city. The convoy is reportedly having mechanical breakdowns, logistical issues, as well as staunch Ukrainian resistance. There are still indications that the convoy to a large degree consists of maintenance support and necessities for already existing troops in the north – eastern outskirts of Kyiv.
The Russian attack on Kyiv is still likely to be Russia's main effort, aimed at enveloping and ultimately encircling the city from the west. The assessment that Russian forces are more likely to pursue the envelopment/encirclement, with the goal of capturing Kyiv, rather than a direct assault into the city still stands. SRS assesses that this effort will likely accelerate during upcoming days.
Most news media use maps to visualise the Russian invasion. Many of these maps have areas highlighted across Ukraine as e.g., "under Russian control". Yet, only Crimea, Luhansk, and Donetsk separatist areas are confirmed to be controlled by Russia. Although, Russian forces are present in major Ukrainian cities, such as Kharkiv and Chernihiv, it is impossible at this stage to assess to what extend the Russian forces have control over these areas. Therefore, when assessing these maps, keep in mind what the map intends to visually describe.
SRS SERVICES
SRS has personnel stationed in the city of Lviv.  SRS can assist with on-site security coordination, as well as assistance with evacuation, planning and contact with Swedish authorities.
For more information, contact SRS via mail@srsgroup.se or +46 (0)8 440 90 70.
Situational Map and Border Crossings of Interest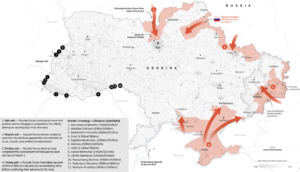 Situational Map and Border Crossings of Interest (last updated 2022-03-03, 10:30 CET). Source: SRS/Reuters.
GENERAL RECOMMENDATIONS
Due to recent military development and the economic sanctions imposed on Russia by Western countries, SRS recommends that expat staff and their families in Russia or in countries aligned with Russia in this conflict to i) register with the Swedish Embassy at se or ii) evacuate to an EU-member state.
If your business is in one of the impacted or neighbouring countries (e.g., Poland, Romania, Hungary, Lithuania or Latvia), SRS recommends updating emergency response plans and security instructions. Prepare evacuation of staff, secure and/or shred sensitive documents and back-up of key information and IT-systems.
Be aware of false information and news sources. Learn more about source criticism at se.
SRS also recommends visiting the Swedish Civil Contingencies Agency (MSB) website (msb.se) to learn more about recommendations and safety precautions in times of crisis.