THE RUSSIAN INVASION OF UKRAINE
SITUATION
2022-03-04
Despite continued heavy Russian shelling, the cities of Kyiv, Kharkiv, Chernihiv and Mariupol remain under Ukrainian control as of Friday afternoon. The Russian forces have, to this day, still made their strongest advance on the Crimea Axis in the southern Ukrainian cities Kherson and Mariupol. On Thursday it was reported that the city of Kherson was under Russian control while Mariupol remains Ukrainian on Friday, although information indicates that the city has likely been encircled by Russian forces.
On Thursday, a second round of talks was confirmed to take place in Belarus. According to the Russian delegation, an extensive ceasefire was on the agenda. Even though, the second round of talks with Russia did not deliver the results that Ukraine demanded, however humanitarian corridors for civilians were agreed upon.
A fire started in an administrative building, early on Friday morning, outside Europe's largest nuclear power plant in Zaporizhzhia after shelling by Russian forces. The fire was extinguished in the morning and fighting has since then been sporadic in the area.  Nuclear regulators and government bodies in Ukraine and the United States say radiation levels appear normal. The information that the power plant has been seized and is under control by Russian military forces remains unclear as videos from the site show ongoing gunfire.
The Ukraine Armed Forces claimed on Wednesday that Russia is planning to involve the Belarusian army in its invasion, and that Belarusian soldiers had been spotted on Ukrainian territory. Although, Belarus denied the claim, Ukraine's armed forces have said in a military update that it is possible that Russia may attempt to create a provocation at the Ukrainian border with Belarus to give the Belarusian regime a pretext to send its troops to join Russia's invasion. Due to Belarus' close ties with Moscow, SRS's assessment is that a development in this direction cannot be ruled out.
The Russian attack on Kyiv is still likely to be Russia's main effort, aimed at enveloping and ultimately encircling the city from the west. The assessment, from yesterday, that Russian forces are more likely to pursue the envelopment/encirclement, with the goal of capturing Kyiv, rather than a direct assault into the city still stands. SRS assesses that this effort will likely accelerate during upcoming days. Speculations and concern about the movements of the Russian convoy north of Kyiv surfaced yesterday among analysts. Until yesterday, the convoy appeared to have "stalled", however, speculatory estimates say that 15 000 troops attached to it may be regrouping, and potentially waiting for logistical supplies before an assault on Kyiv. If these speculations are true, new attacks on Kyiv could implicate more casualties.
Most news media use maps to visualise the Russian invasion. Many of these maps have areas highlighted across Ukraine as e.g., "under Russian control". Yet, only Crimea, Luhansk, and Donetsk separatist areas are confirmed to be controlled by Russia. Although, Russian forces are present in major Ukrainian cities, such as Kharkiv and Chernihiv, it is impossible at this stage to assess to what extend the Russian forces have control over these areas. Therefore, when assessing these maps, keep in mind what the map intends to visually describe.
SRS SERVICES
SRS has personnel stationed in the city of Lviv.  SRS can assist with on-site security coordination, as well as assistance with evacuation, planning and contact with Swedish authorities.
For more information, contact SRS via mail@srsgroup.se or +46 (0)8 440 90 70.
Situational Map and Border Crossings of Interest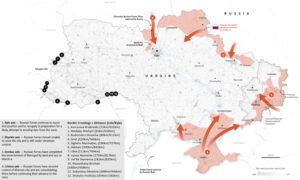 Situational Map and Border Crossings of Interest (last updated 2022-03-04, 14:30 CET). Source: SRS/Reuters.
GENERAL RECOMMENDATIONS
Due to recent military development and the economic sanctions imposed on Russia by Western countries, SRS recommends that expat staff and their families in Russia or in countries aligned with Russia in this conflict to i) register with the Swedish Embassy at se or ii) evacuate to an EU-member state.
COMPANIES AND ORGANISATIONS
If your business is in one of the impacted or neighbouring countries (e.g., Poland, Romania, Hungary, Lithuania or Latvia), SRS recommends updating emergency response plans and security instructions. Prepare evacuation of staff, secure and/or shred sensitive documents and back-up of key information and IT-systems.
PRIVATE INDIVIDUALS
Be aware of false information and news sources. Learn more about source criticism at se.
SRS also recommends visiting the Swedish Civil Contingencies Agency (MSB) website (msb.se) to learn more about recommendations and safety precautions in times of crisis.