THE RUSSIAN INVASION OF UKRAINE
SITUATION
2022-03-08
The military situation on the ground has not changed significantly in the past 24 hours. According to a senior Pentagon official, nearly all Russian troops that were amassed on Ukraine's border are now deployed in Ukraine. Nevertheless, reports still indicate that the Russian military struggles with logistical and technical problems stalling their advance on the Kyiv axis.
According to Ukraine military administration, several people, including children, have been killed by Russian shelling in the north-western city of Sumy. Civilian casualties are likely to increase as Russian forces get closer to areas and cities unable to evacuate. The Ukrainian resistance remains strong in inflicting damage and disrupting Russian ground forces, as well as Russian air and missile operations. On Tuesday morning, the Ukraine defence ministry claimed a second Russian general had been killed around Kharkiv.
Today marks the fourth attempt to evacuate citizens from Kyiv, Chernihiv, Sumy, and Mariupol. According to Russian officials, humanitarian corridors will be opened to let civilians in besieged Ukrainian cities evacuate in the direction of their choice. On Monday, Ukrainian officials had called the earlier plan "completely immoral" and rejected it since the proposed evacuation routes mostly led to Russian and Belarus. As of Tuesday afternoon, civilians have been evacuated from Irpin and Sumy, while the corridor between the besieged city of Mariupol and Zaporizhzhia has been violated by Russian shelling, according to Ukrainian officials. Many of the cities suffering from heavy Russian attacks still lack food, water, medicines, and other necessities, a situation that now has reached critical levels.
Several sources report that Russian troops are likely attempting to bypass the city of Mykolayiv, north of Kherson, to cross the Southern Bug upriver of that city to permit an advance on Odesa. There are also indications that the Russian troops in Mykolayiv will try to encircle and take control over the South Ukraine Nuclear Power Plant some 120 km north of the city. Russian forces already have control over Europe's largest Nuclear Power Plant south of Zaporizhzhia. Furthermore, on Monday evening two oil depots in the city of Zhytomyr, west of Kyiv, caught fire after Russian airstrikes. Neither further attacks targeting oil depots nor future attempts to encircle Ukraine's two remaining Nuclear Power Plants can be ruled out. Nevertheless, the Nuclear Power Plants are located circa 300 km west and north-west from Kyiv, areas where Russian ground troops have not yet been operating.
Since the end of February there has been a notable intensification of Russian accusations that Ukraine is developing nuclear or biological weapons. Also, Russia accuses and claims that the US is helping Ukraine with illegal bioweapons research in two labs in Kiev and Odesa. According to the British Defence Intelligence, these narratives are long standing and are likely being amplified as a rationale and justification for the Russian invasion of Ukraine. SRS assesses that this topic, with further accusations, likely will increase in the coming days.
SRS SERVICES
SRS has personnel stationed in the city of Lviv.  SRS can assist with on-site security coordination, as well as assistance with evacuation, planning and contact with Swedish authorities.
For more information, contact SRS via mail@srsgroup.se or +46 (0)8 440 90 70.
Situational Map and Border Crossings of Interest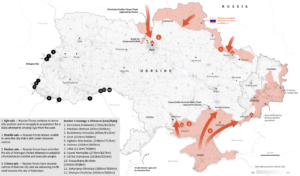 Situational Map and Border Crossings of Interest (last updated 2022-03-08, 14:40 CET). Source: SRS/Reuters
GENERAL RECOMMENDATIONS
Due to recent military development and the economic sanctions imposed on Russia by Western countries, SRS recommends that expat staff and their families in Russia or in countries aligned with Russia in this conflict to i) register with the Swedish Embassy at se or ii) evacuate to an EU-member state.
COMPANIES AND ORGANISATIONS
If your business is in one of the impacted or neighbouring countries (e.g., Poland, Romania, Hungary, Lithuania or Latvia), SRS recommends updating emergency response plans and security instructions. Prepare evacuation of staff, secure and/or shred sensitive documents and back-up of key information and IT-systems.
PRIVATE INDIVIDUALS