THE RUSSIAN INVASION OF UKRAINE
SUMMARY – WEEK 16
2022-04-22
Drawn out battle for the city of Mariupol and Ukrainian forces retreat to the Azovstal steel plant. The drawn-out battle for Mariupol has tested Russian forces, as well as diverted soldiers and materiel, which has slowed Russian advances elsewhere. Nonetheless, Russian president Vladimir Putin has stated that the siege of Mariupol is a success. The last frontier for the Ukrainian forces in Mariupol is the Azovstal steel plant, which harbours around 1000 civilians. Ukrainian forces have reported that they cannot hold on much longer.
Mariupol, Charkiv and other Ukrainian cities are under constant bombardment with heavy civilian casualties. Mariupol has suffered heavy damage to its infrastructure and civilian casualties, despite statements from Russian officials that no civilian targeting would occur. Furthermore, Ukraine officials report that Russia has not honoured the agreement on humanitarian corridors and continue to bombard Mariupol. The targeting of populated areas and civilians is in line with Russia's previous military operations in Chechnya in 1990 and Syria in 2016.
Ukraine officials report mass graves in Mariupol. The US satellite imagery company Maxar Technologies has collected and analysed photos which confirm this. Ukraine military intelligence has likewise released a communication between Russian soldiers, in which order were given to execute Ukrainian prisoners of war.
The Moskva sinks. New images show how the Russian missile cruiser the Moskva is badly damaged and on fire. Eventually the images display how the ship sinks into the Black Sea.
China continues to strengthen ties with Russia. China's vice foreign minister Le Yucheng has stated that China will continue its strategic coordination with Russia, regardless of the international climate or relations, in order to assure a win-win cooperation. China has reported an increase in trade with Russia.
Alleged Russian war criminals decorated. Reports indicates that soldiers from the 64th separate guards motor rifle brigade, the primary suspects in the war crimes committed in Bucha, have been awarded with the honorary title of Guard, by Russian president Vladimir Putin. The title is decorated to those who defend Russia's sovereignty.
European countries train Ukrainian forces. German foreign minister Annalena Baerbock has stated that Germany will provide training and maintenance to the Ukraine military, while UK prime minister Boris Johnson has stated that Dozens of Ukrainian soldiers are being trained in the UK. Furthermore, the UK is to reopen its embassy in Kyiv.
Finland and Sweden debate membership in NATO. The Finnish parliament has opened a debate on whether to join NATO, which will be decided within weeks, according to Finnish prime minister Sanna Marin. Agence France Presse reports that the majority of Swedes are in favour of joining NATO.
Russia closes Baltic consulates. The Latvian, Estonian and Lithuanian consulates in Russia have been closed by the Russian state and consulate officials have been declared "persona non grata". Both Latvia and Estonia have recognized Russian actions in Ukraine as genocide.
IAEA and Chernobyl nuclear plant is communicating. The International Atomic Energy Agency (IAEA) has re-established contact with the Chernobyl nuclear plant, after communication was cut due to the Russian invasion. IAEA plans to visit the plant later this month for damage inspection.
The UN documents war crimes and reports millions of refugees. The United Nation (UN) reports that more than five million people have fled Ukraine, while at least seven million people have been internally displaced. Simultaneously, the UN has documented unlawful killings, including summary executions, of 50 civilians in the city of Bucha.
SRS SERVICES
SRS has personnel stationed in the city of Lviv.  SRS can assist with on-site security coordination, as well as assistance with evacuation, planning and contact with Swedish authorities.
For more information, contact SRS via ukraine@srsgroup.se or +46 (0)8 440 90 70.
Situational Map and Border Crossings of Interest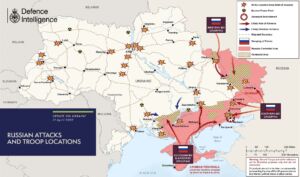 Situational Map (last updated 2022-04-21, 16:13 CET). Source: UK Ministry of Defence.
GENERAL RECOMMENDATIONS
Due to recent military development and the economic sanctions imposed on Russia by Western countries, SRS recommends that expat staff and their families in Russia or in countries aligned with Russia in this conflict to i) register with the Swedish Embassy at se or ii) evacuate to an EU-member state.
COMPANIES AND ORGANISATIONS
If your business is in one of the impacted or neighbouring countries (e.g., Poland, Romania, Hungary, Lithuania or Latvia), SRS recommends updating emergency response plans and security instructions. Prepare evacuation of staff, secure and/or shred sensitive documents and back-up of key information and IT-systems.
PRIVATE INDIVIDUALS
Be aware of false information and news sources. Learn more about source criticism at se.
SRS also recommends visiting the Swedish Civil Contingencies Agency (MSB) website (msb.se) to learn more about recommendations and safety precautions in times of crisis.