THE RUSSIAN INVASION OF UKRAINE
SUMMARY – WEEK 11
2022-03-18
Russian forces did not make any major advances and Ukrainian forces carried out several local counterattacks. Russian forces made little territorial progress this week and continue to suffer heavy casualties and logistical challenges. Russian forces are increasingly targeting residential areas in e.g., Kyiv and Mariupol. The cities of Kharkiv, Chernihiv, Sumy and Mariupol remain encircled and subject to heavy Russian shelling.
After three weeks of active hostilities, civilian casualties and damage to critical infrastructure continue to accumulate as intense clashes reach new localities across the country. In traditional hotspots, like northern and eastern Ukraine, fighting continues to escalate, leaving affected people with little respite. Reportedly, more of the refugees that have crossed the border from Ukraine into Poland, in recent days, have showed signs of having suffered trauma compared to those who fled earlier in the crisis.
Russian forces strike targets in western Ukraine. Last Sunday, Russia expanded its offensive to western Ukraine, firing missiles near the city of Lviv and hitting a large military base close to the Polish border. On Friday morning, Russian missiles struck an aircraft repair plant in Lviv, according to the city's mayor.
Ukraine's President Volodymyr Zelensky signals he doesn't expect Ukraine to join NATO anytime soon. In a meeting on Tuesday with leaders of the UK-led Joint Expeditionary Force, Zelensky appeared to shift further away from what until recently had been seen as a key Ukrainian ambition. Ukraine's desire to join NATO, and its status as a NATO partner, was among the numerous arguments Putin cited to justify the Russian invasion.
US president Joe Biden is set to speak with his Chinese counterpart at 9.03 am Eastern time (1.03 pm GMT).  Biden is expected to warn Xi that he will face "costs" if Beijing rescues fellow authoritarian ally Russia from intense western sanctions aimed at punishing Moscow's invasion of Ukraine.
Russian state TV employee, Marina Ovsyannikova, went to court on trial over anti-war protest. Ovsyannikova interrupted a live news programme on Russian state TV on Monday and pleaded not guilty to the charge of "organising an unauthorised public event". She was later fined with 30,000 roubles (£214; $280) for the video message.
On March 16 the Russian President, Vladimir Putin, held a broadcasted speech to government ministers, the Russian people, and the West. In Putin's chilling speech, he was addressing "scum" traitors within the country and claimed Western attempts to have global dominance is coming to an end. Media has been calling his latest speech "a terrifying echo of Stalin".
SRS SERVICES
SRS has personnel stationed in the city of Lviv.  SRS can assist with on-site security coordination, as well as assistance with evacuation, planning and contact with Swedish authorities.
For more information, contact SRS via mail@srsgroup.se or +46 (0)8 440 90 70.
Situational Map and Border Crossings of Interest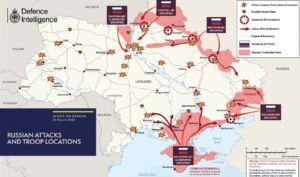 Situational Map (last updated 2022-03-18, 15:50 CET). Source: UK Ministry of Defence.
GENERAL RECOMMENDATIONS
Due to recent military development and the economic sanctions imposed on Russia by Western countries, SRS recommends that expat staff and their families in Russia or in countries aligned with Russia in this conflict to i) register with the Swedish Embassy at se or ii) evacuate to an EU-member state.
COMPANIES AND ORGANISATIONS
If your business is in one of the impacted or neighbouring countries (e.g., Poland, Romania, Hungary, Lithuania or Latvia), SRS recommends updating emergency response plans and security instructions. Prepare evacuation of staff, secure and/or shred sensitive documents and back-up of key information and IT-systems.
PRIVATE INDIVIDUALS
Be aware of false information and news sources. Learn more about source criticism at se.
SRS also recommends visiting the Swedish Civil Contingencies Agency (MSB) website (msb.se) to learn more about recommendations and safety precautions in times of crisis.