THE RUSSIAN INVASION OF UKRAINE
SUMMARY – WEEK 15
2022-04-13
Putin appoints a new general to lead the Ukraine invasion, Alexander Dvornikov. Dvornikov was the commander of the Russian military operation in Syria, as well Russia's southern military district, which borders on the Donbas region. UK intelligence and US officials suggest that the appointment of Dvornikov is an attempt to centralize command and control, which has been lacking in the Russian military.
Russia is actively redeploying towards the Donbas Region, according to US officials. Russian forces continue to focus their efforts on the east, specifically on Ukraine troops near Donetsk and Luhansk. It is likewise suspected that Russian forces are withdrawing from Belarus and relocating to eastern Ukraine. Fighting in eastern Ukraine will likely continue over next two to three weeks.
Russian forces are regrouping towards Charkiv. Ukraine intelligence reports that Russian troops will advance towards Charkiv and that heavy fighting continues in the town of Izium, in the Charkiv region. The fight in Izium is reported as the most critical fight in the war, as of now.
Ukraine officials and military report possible use of chemical weapons by Russian forces in Mariupol. Ukraine officials and the Azov battalion has accused Russia of potentially dropping a toxic substance on civilians in Mariupol, via drones. Ukraine president Volodymyr Zelensky has stated that it is not possible to confirm this, but that the allegations should be taken seriously. Zelensky has likewise accused Russian forces of leaving armed mines behind, in order to slow down Ukrainian forces. Russia has denied any use of chemical weapons and calls it disinformation.
Russian heavy shelling continues. Russian forces have continued its shelling of Donetsk, Luhansk and Charkiv. Intelligence suggests that Russia's continued reliance on unguided bombs decrease their ability to discriminate, when targeting and conducting strikes. This greatly increases the risk of further civilian casualties.
Negotiations between Russia and Ukraine are struggling. Russian president Vladimir Putin has stated that negotiations with Ukraine have hit a dead end and that the invasion will not stop until successful. Simultaneously, Ukraine president Volodymyr Zelensky has said that negotiations are difficult, but ongoing, while Ukraine foreign minister Dmytro Kuleba stated that negotiations will be extremely difficult, due to the alleged war crimes by Russian forces.
Ukraine prosecutor states that 5800 cases of potential war crimes are being investigated. France's ambassador in Ukraine, Etienne de Poncins, has posted pictures from Lviv, which display French forensic gendarmes assisting local authorities in the investigations.
Nine humanitarian corridors open during the 12th of April, none for the 13th. Nine humanitarian corridors were opened during the 12th of April, five of whom went from Luhansk and one from Mariupol. However, Ukraine officials reported that no evacuation routes would be opened during the 13th, because Russia is allegedly creating a dangerous situation across the routes.
International attention: Chechen leader Ramzan Kadyrov has stated that Mariupol, Kyiv and more cities will be exposed to a heavy offensive, while Donbas will be fully liberated along with the rest of Ukraine. Japan has imposed sanctions on Putin's two daughters, as well as Lavrov's wife and daughter. Germany's armed forces are preparing a medevac flight for Ukrainian civilians. Finish Prime Minister, Sanna Marin, has stated that the decision to join NATO will be delivered within weeks, rather than months. Finland will coordinate with Sweden, in order to reach similar security decisions.
SRS SERVICES
SRS has personnel stationed in the city of Lviv.  SRS can assist with on-site security coordination, as well as assistance with evacuation, planning and contact with Swedish authorities.
For more information, contact SRS via ukraine@srsgroup.se or +46 (0)8 440 90 70.
Situational Map and Border Crossings of Interest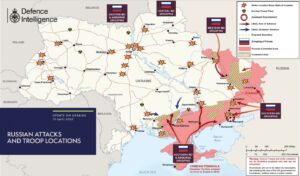 Situational Map (last updated 2022-04-13, 12:56 CET). Source: UK Ministry of Defence.
GENERAL RECOMMENDATIONS
Due to recent military development and the economic sanctions imposed on Russia by Western countries, SRS recommends that expat staff and their families in Russia or in countries aligned with Russia in this conflict to i) register with the Swedish Embassy at se or ii) evacuate to an EU-member state.
COMPANIES AND ORGANISATIONS
If your business is in one of the impacted or neighbouring countries (e.g., Poland, Romania, Hungary, Lithuania or Latvia), SRS recommends updating emergency response plans and security instructions. Prepare evacuation of staff, secure and/or shred sensitive documents and back-up of key information and IT-systems.
PRIVATE INDIVIDUALS